Since November 1896, when Thistle had announced plans for their new ground at Meadowside, back in the heart of Partick, work had been ongoing. Scottish Sport had heralded the news
PARTICK THISTLE'S NEW GROUND
We are pleased to find that Partick has at last the opportunity of possessing a first class ground, capable of accommodating a first class team. The Partick Thistle, urged no doubt by the encroachments of the avaricious building fiend, have decided to remove to larger fields and pastures more central. They have prevailed upon the proprietors of the nineteen acres of fallow land which lies on the north bank of the Clyde, between almost the mouth of the Kelvin and the Sawmill, to grant them a three year lease – far too short a time if optional – and upon it they are resolved to begin business on a much more ambitious scale … There will be large covered and open stands, and it is proposed to lay down a wooden cycle track – the only one in Scotland. (Scottish Sport)
Since that announcement Thistle had been promoted to Division One, and during the summer of 1897 the plans to build the covered grandstand had been accelerated. Plans were lodged. (Thanks to Stuart Deans for the following images).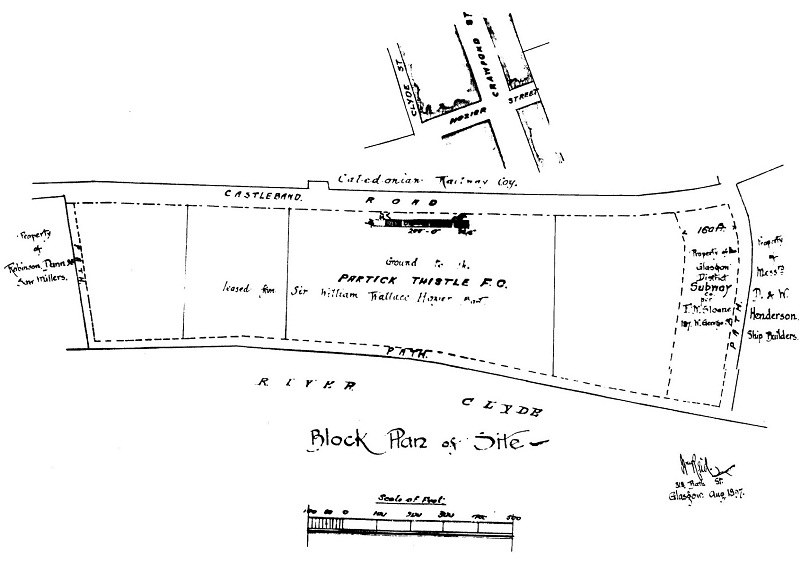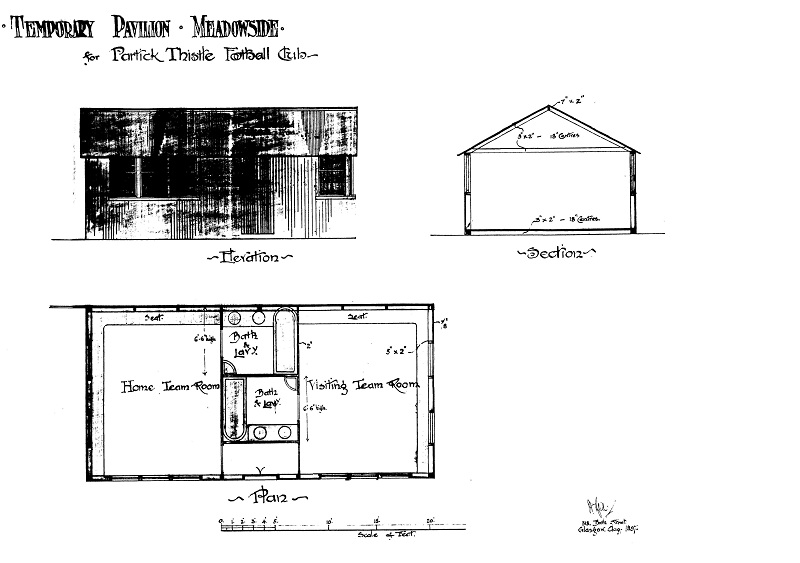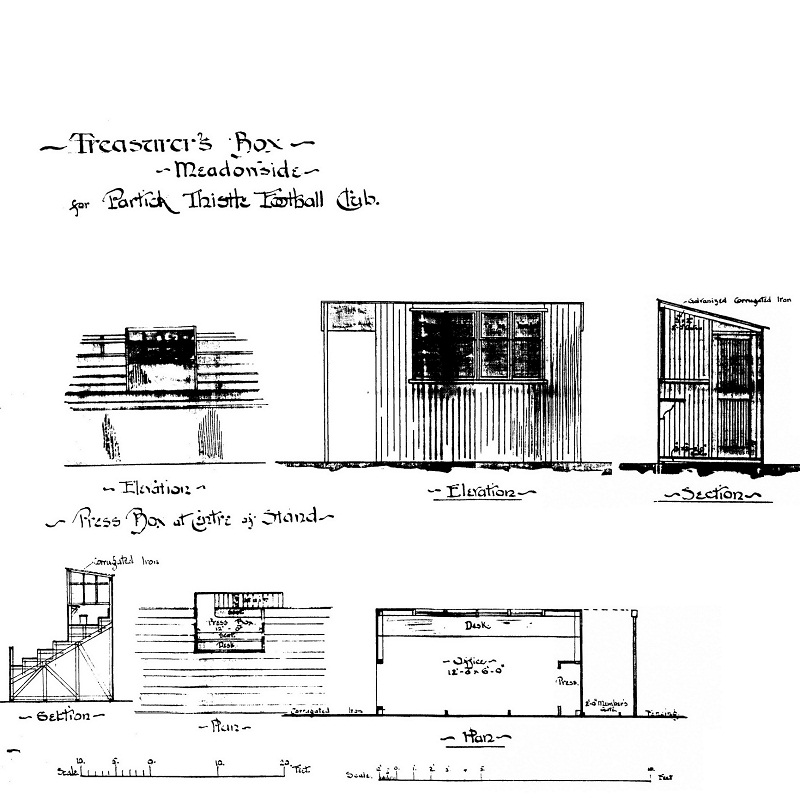 The first game to be played at Meadowside was a friendly against Rangers - a 0-1 defeat, but the new ground was generally complimented. The Daily Record explained just why the new ground was so handy for supporters.
"Travellers by rail are deposited by Subway and Caldeonian almost at the entrances, while those desirous of a river passage are landed from the Clutha Pier at the southern end of the field. Meadowside Park adjoins the river, and last night the lofty gangways of the ocean liners presently in course of construction at Fairfield did duty as a grand stand, from where the horny handed sons of toil found football more engrossing than business. Throughout the game there was a passing panorama of river steamers and outward bound vessels of every description, so that a visit to the Thistle ground has other charms than football."
Scottish Sport reported
"The playing pitch is a fine, almost level, stretch of young turf. So far only the uncovered stand has been erected – on the north side of the pitch – but a covered stand will be added when funds permit."
Those required funds suddenly became available after another home game, and another huge gate of £310, 12s, 9d, against Rangers in the Glasgow Cup.
The pitch at Meadowside, however, was criticised as "a free coup with only grass seeds strewn over it". James Lamont had been injured as a result of landing of debris on the pitch while Martin of Hibs also injured himself on the pitch.